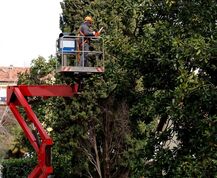 Most home and business owners do not think about tree removal until it causes a problem. However, there are benefits to removing trees before they become a problem. Here are a few of them: Costs, Safety, Curb appeal, and the environment. Before you decide whether you need a tree removed, consider these benefits first.
Costs
There are several factors that can affect the costs of tree removal. First, the type of tree that needs to be removed is a major factor. Different types of trees require different methods and techniques. Some will require specialized equipment to safely remove them, which will add to the total cost. Other factors include the species and health of the tree. A diseased tree can be very expensive to remove. You can also check on the safety measures to prevent potential accidents and injuries when removing trees.
The size of the tree should also be considered. Some trees are small, while others are large. Small trees cost less to remove than medium-sized ones. A small tree will likely cost you less than $100, while a large tree may cost as much as $2,000 or more. Also, remember that larger trees take more time to remove, as their roots can wreak havoc on your lawn, driveway, or home foundation.
The location of the tree also plays an important role in the overall cost of tree removal. If it's in a tight space, it may be difficult for professional tree service providers to get to it. In addition, if you have other trees nearby, it might be difficult to maneuver their equipment. Also, consider whether the tree is difficult to access, which could increase the cost.
When choosing a tree removal company, be sure to get several price quotes. These are generally non-binding estimates, but the more detailed information you provide, the more accurate the estimate will be. Moreover, it's important to get a price quote in writing, so you can compare the prices. Also, consider whether the company will include additional fees to remove the tree's stump or roots.
While many factors affect the cost of tree removal, some factors can help you avoid paying more than you need to. The size of the tree, the complexity of the project, and the number of trees nearby can all impact the total cost. Certified experts and insured climb teams will cost more than uninsured ones, but these services will be more reliable and safer. Also, make sure to ask if the tree removal company offers a warranty for the work done.
Safety
Trees are a beautiful part of the environment, but they can also become a liability if they are not maintained properly. In particular, trees in residential and business areas can become diseased and pose a greater risk of falling branches, making their removal a necessary safety precaution. Using a professional tree service can help prevent any unnecessary damage.
Tree removal is a dangerous process, and it is important to be aware of the hazards and the potential for injury. Using protective gear will help prevent injuries, such as a fall from a ladder. Proper protective gear is also essential for reducing the risk of eye and hand injuries. A qualified arborist will know the proper techniques to cut the tree and will ensure that the tree's condition is stable enough for the rigging force.
Moreover, tree removal services will make sure that the surrounding area is cleared of any hazards before trimming the tree. They will also inspect the tree and determine where the safest routes are for falling branches. They will also perform a back and undercut to minimize damage caused by falling limbs. Expert tree removal services will also clean up the area afterward. This will protect the property from damage caused by falling limbs and girdling roots.
Another benefit of tree removal is that the removal process can be done with proper equipment. Without proper equipment, the process can be hazardous, resulting in damage to the property and higher costs. Additionally, the removal process can be difficult to clean up. Tree removal will require the cutting of countless branches and a large amount of tree stumps.
The use of cranes is an excellent way to reduce the risk of falling trees. Cranes can also reach inaccessible places. These cranes can safely lift sections of a tree over a neighboring structure. In addition, they can safely remove trees that would be impossible to remove using conventional methods.
Curb appeal
Trees are an important part of your landscape, and they add to the aesthetic quality of the area. However, overgrown trees can have negative impacts on curb appeal. They may be blocking a view of the property or growing in the wrong pattern. Hiring a tree removal service can help open up the landscape.
According to a study, homes with healthy and mature trees often increase in value. In fact, a single tree can add $1,000 to the value of a home. Whether you're looking to sell your home or just want to improve its curb appeal, a healthy tree can greatly increase the value of your home.
A dead, overgrown tree on your property is unsightly and makes your property look rundown. Trees can also become dangerous, particularly if they're too close to a power line. Moreover, dead branches can cause injury to people and damage to buildings. Tree removal services can help you get rid of these hazards and add to your property's curb appeal.
In addition to improving curb appeal, tree removal can increase the value of a home or business. It can help potential buyers notice your property more quickly because it appears well-maintained and attractive. However, it's important to note that the decision to remove a tree should not be made lightly. Depending on the type of tree you have, it may not be necessary to remove the tree.
Pruning is another great way to boost curb appeal. By pruning your trees, an arborist can give them a balanced and graceful shape. Pruning is most beneficial during their dormant period, but the benefits of pruning can be seen during any season. During the warmer months, tree trimming services can also remove dead branches that are blocking a view.
Environment
Removing trees can have environmental and other benefits. For instance, trees provide shade, which can reduce your need for air conditioning. A mature tree can remove up to 50 pounds of carbon dioxide from the air in its lifetime. Trees also help improve air quality by filtering harmful pollutants. A tree's shade can also reduce your need for air conditioning by 30 percent.
Moreover, removing old trees can help promote forest restoration, as they provide space for new trees to grow. In addition, they can encourage diversity in the forest, which is helpful to the ecosystem. If you're unsure about the environmental benefits of tree removal, check with an arborist before making a decision.
A tree's presence in a forest can make it more vulnerable to droughts, insect attacks, and disease. As a result, removing a tree can relax the competition between trees and allow the remaining trees to grow healthy. This can make the forest a healthier place to live for everyone.
Many people think that cutting down trees is bad for the environment. This is because trees have such a strong impact on the local ecosystem. Yet, proper forest management can offer many benefits to the human population, landscape, and native animal species. In fact, in some cases, tree removal is a great way to protect the environment from further degradation.
The removal of dead or diseased trees can also help prevent the spread of disease. Diseased trees can fall on people or damage the rest of a property. If they are not removed immediately, the disease will spread to the surrounding trees. Another reason to remove dead or diseased trees is that they spread a variety of pests.